Imagine Happy Death Day and Back to the Future making a movie together. Totally Killer is that movie, with a little bit of horror and humor. Totally Killer is a rated R movie because of bloody violence, language, sexual material, and teen drug/alcohol use. Totally Killer's initial release was September 28, 2023. The director of the movie is Nahnatchka Khan. The music is by Michael Andrews. The production companies are Amazon MGM Studios and the story is by David Matalón and Sasha Perl-Raver. The top 3 actors are Kiernan Shipka, Olivia Holt, and Charlie Gillespie. 
This horror/sci-fi/comedy movie starts with your average Halloween start. They're trying to grab your attention from the beginning. It gets you hanging out of your seat wondering what's going to happen next.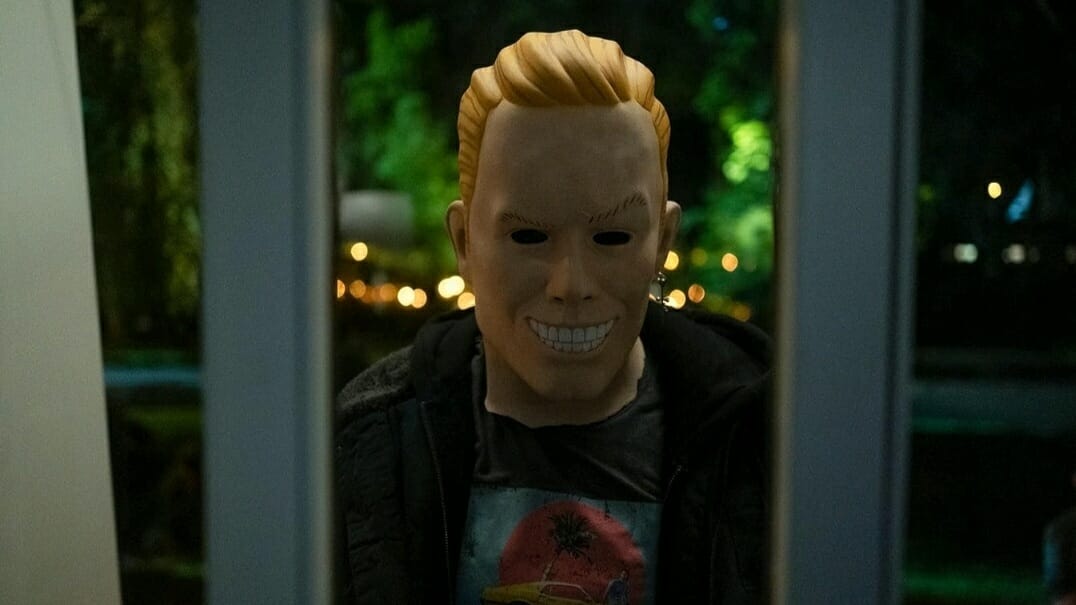 Totally Killer starts with Halloween night, Jamie (Kiernan Shipka) is getting ready to go out with her friends. doesn't have a great connection with her mom Pam (Julie Bowen) and since it's Halloween, she's overprotective because back in 1987, 35 years ago, Pam's three friends got murdered around Halloween. This was called the Sweet Sixteen Killings because the killer stabbed each victim 16 times. These killings have defined the small town. Since Pam is very overprotective, she sends her husband to drop off Jamie at the movies with her friends and tells him that he needs to wait there until she gets out of the movie to take her home. Once they get back home, Pam is murdered by the Sweet Sixteen killer 35 years later. Jamie is devastated until her best friend Amelia (Kelcey Mawema) shows Jamie her science fair project, which is a brand new time machine, but she can't get it to work. That night the Sweet Sixteen killer chases Jamie and Amelia to the fair campground where the killer chases Jamie into the time machine as the killer tries to stab her, the knife goes into the time machine which throws Jamie into 1987 where she has no idea where she is or what year it is.
Jamie then realizes that she can try to stop the murders and fix history. Since this is 1987 before the murders, no one believes Jamie when she tries to warn them. There are a lot of culture shock moments from constant smoking from every one, no technology or phones, different styles, and more. Jamie then tries to find her mom and her three best friends who got murdered that year. Olivia Holt stars as Jamie's younger mom Pam. Young Pam is actually part of a group called the Mollys, which is known by everyone around their school. Pam is actually a bully and it shocks Jamie as Young Pam bullies her. While Jamie is stuck in 1987, she is trying to change everything so that no one gets murdered but there's an unknown killer on the loose. Jamie gives out clues to Amelia back in 2023 but ends up changing the order of how everyone was killed and messes up things in the future. Throughout this time Jamie tries so hard to protect younger Pam. Jamie finds Amelia's Mom who has the original design for the time machine to help her. Jamie tricks everyone into thinking that she's a psychic and knows what's going to happen in the future. No one takes her seriously until the first person gets killed. Throughout the whole movie, they try to stop all the killings but unfortunately, all three of the girls get murdered. Jamie needs to get back to the future in 2023 by Halloween night or she'll be trapped in the 80s forever, but this far into the movie she hasn't caught the killer yet and that's what she needs to do before she can go back. They come up with a plan to try to stop the murder and then pop Jamie back into her own time. The plan eventually works as the team manages to kill the killer before he gets to kill his next victim. Then they took off his mask and realized who the killer actually was. They are in complete shock! But the killer in 1987 is not the same killer in 2023. How shocking is that! Jamie then makes it back into 2023 to find out if her mom is still alive… 
Personally, I think this movie gives out lots of cringeness, scary parts, and humor. It's not like your typical horror movie with jump scares every five minutes, but there are a couple of jump scares that you're not prepared for. I don't typically watch horror movies, but I think this is a movie that I would definitely rewatch. It's cool to watch how a younger teenager gets to watch her mother back when she was a teenager. I like how it acts like Back to the Future and Happy Death Day at the same time. I would definitely recommend watching this movie.