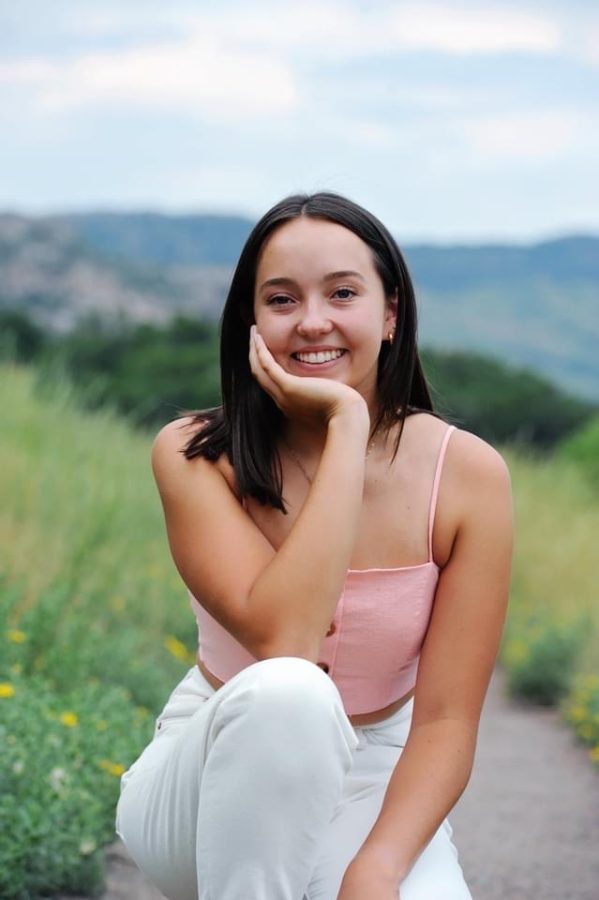 SOPHIA MEZA: Dancing with the World as a Partner
Sophia Meza is a master of balance, both at school and on the stage
In high school, it's always great to have a support system, an extra push to success, and still have fun while achieving your dreams and goals. You're always expected to live up to a certain expectation but Sophia Meza sees the good in all her peers' achievements, successes, and personalities. Sophia likes to contribute to the school any way she can, she is part of student council, NHS, the LINK Crew, and student advisory. On top of all of these attributes, she also mentors the unified basketball team. 
Outside of school, Sophia loves to hang out with her friends and family any chance she gets because she does get a lot of free time. "My friends and I love to go to concerts, spin classes, and eat Crumbl cookies. I also really enjoy traveling with my family and do that as much as possible," Sophia said.
Besides hanging out with friends and family and being a helping hand behind some other peers' successes. Sophia loves to dance and receive support performing on a stage. She likes to grow and continue to grow, creating a successful outcome while performing to the greatest of her ability. Sophia quotes, "I have been dancing since I was three years old and, as a child, it helped a much shyer version of myself communicate without having to speak. Now it serves me in that same therapeutic way but more enhanced and meaningful. It really allows me to tap into my deepest emotions in a safe space surrounded by people I love and am supported by."
Though Sophia likes surrounding herself with a stable support system and doing the things she loves for herself, she enjoys helping others around her and being as involved as she could be. Sophia says "The most motivating thing for me to stay involved in the school is probably the chance it gives me to be a part of something bigger than myself. It is very rewarding and makes everything much more worthwhile." 
 "I just like being a part of the good in the world and a lot of the things I do for the school make me feel like I play a tiny role in that. I decided to be a unified mentor because it was just a lot of fun bonding with the players and watching them succeed. They love having people cheer them on and support them and being able to do that for them just made my heart happy."
But being super involved and helping others can become very time-consuming and stressful at times. On top of doing so much for the school, Sophia says that sometimes it can get hard to keep up with a loaded class schedule, but she likes to take one day at a time so it doesn't get too overwhelming. Also celebrating every small success helps her push forward and avoid getting stressed out. 
"My dance training consists of 20+ hours a week of technique classes as well as rehearsals for competition so I don't have much free time. I also take very challenging courses at Frederick so making sure I am making it to dance as well as maintaining my course load can be really challenging. Especially on top of wanting to have a social life and do things other than school and dance. I don't really know how I do it all, I just kind of do. After doing it for so long it just comes naturally at this point." Sophia explains 
Sophia explains that even though it gets challenging she refuses to settle for anything less than her best. She quotes, "To me, it feels like a waste of time to spend so much of our lives at school and do it poorly. It only makes sense to try hard and do my best, so that's exactly what I try to do." 
One of the great things about being involved and participating is you can use it as a great learning experience.
"I would say that my participation in these activities has taught me that I am capable of making meaningful change. This year in Student Council I started the Adopt a Family program and being able to hear that showed me how much change we are able to make in our communities as long as we are willing to try and work hard. Adopt a Family specifically showed me the importance of building each other up and the power of caring for others."
As Sophia is finishing up her last year at FHS she plans on attending college after high school–she is deciding between the colleges of San Diego State, UCLA, or Arizona State. She wants to study something within Business Management/Administration as well as Entrepreneurship "But I'm not super attached to that major," Sophia states
Sophia has some advice for any incoming students: "It really does go by fast and the best way to soak it all in is by doing everything you can. It sounds like such a cliche but it really is true! The best way to go through high school is by enjoying it and surrounding yourself with people you love and care about." 
Sophia is bright and courageous, she puts the positive in every situation. She most definitely is a caring light at FHS that makes the school a bit brighter. Everyone needs a little bit of Sophia Meza.