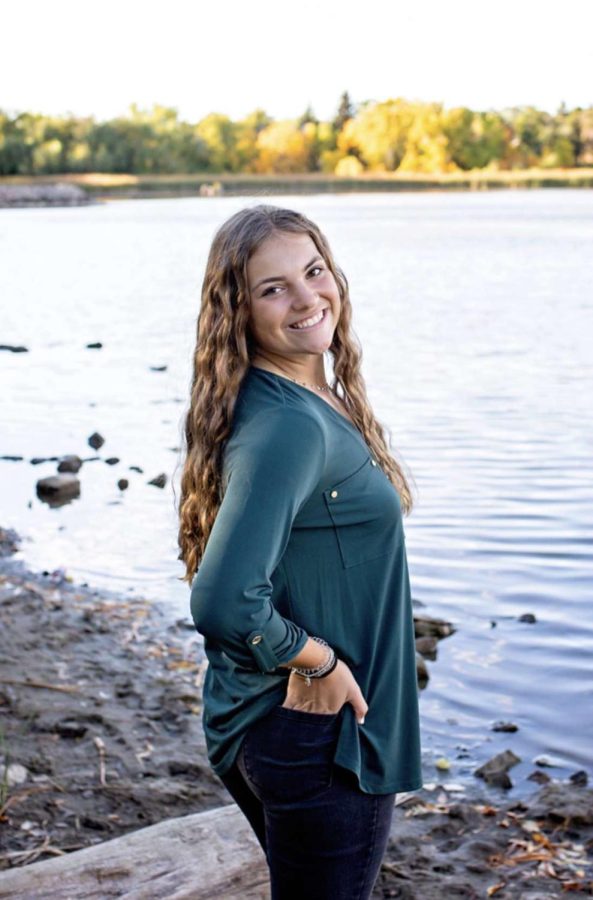 KYLA MARES: A Positive Spirit
Kyla Mares is into healing using her favorite medicine: positivity
Kyla Mares finds different ways to be positive and bright every day. Several of Kyla's peers quote she is super funny, positive, and as bright as the sun. Kyla states she likes to focus herself in a healthy positive environment. Outside of school and sports Kyla works, swims, and runs. Kyla quotes "I like going on hikes and seeing sunrises and sunsets. I also like going to the pool or the lake."
After Kyla graduates at FHS she states "I'd like to go to either Colorado State University and go into Medical Field or I'd like to go to Oregon or Washington for their Marine Biology program" 
While maintaining an outstanding GPA, Kyla says she enjoys escaping from the real world in sports. Kyla explains "It just kind of becomes all that you do. You don't really have that much time to yourself or to do anything outside of school or the sport. But I think if you really love and enjoy what you're doing it's definitely worth it and personally like that's fun for me I like not having time to worry about anything else."
Kyla quotes " I like to be successful I made sure to connect with some teachers so I had people I could go to and talk to if I needed help and try to get all of my work in on time to the best of my ability." Kyla says that she liked managing her time and she liked to take advantage of her free time and off blocks to keep up in classes and stay ahead.
"But lots of success creates a lot of stress" Kyla quotes, She says "Having both school and sports is stressful because I get worried I'm not good enough for either and it's easy to get overwhelmed, which happens to everyone. I get over it by just doing what I can and thinking about what I should prioritize, which parts are going to be what I remember in the future and what parts really matter at all." 
Kyla quotes she is very fond of the idea of positivity and encouraging others.
"I like to encourage others by being positive. It could always be worse and there's usually at least some good in every situation. I like to hype people up whenever I can and make people feel better when I can. Seeing other people happy encourages me to be a lot more positive."
Kyla has an amazing thought process when it comes to being positive "Something I really like to go by is count your blessings more than your problems. It helps me try to not take too much for granted and make the most of what I have. I want to be seen as a happy and positive person."
Kyla has great advice for incoming students: "Don't be shy. I know it's what they'll hear from literally everyone but join a club or a sport or a choir or something. Find a good group of friends. It'll make your whole high school experience way better. It goes by faster than you realize just try and have a fun experience and always stay positive."
While I speak with Kyla I can see the encouraging, kind, and bright person she is. Kyla quotes, "I feel like I've accomplished a lot in high school. I'm a 3 sport athlete and my class rank is 9th. As for the people, or at least my teammates I'd like to be remembered as nice, caring, and took a leadership role." That's just what Kyla did. Kyla has a bright future and she isn't gonna let anyone stop her.