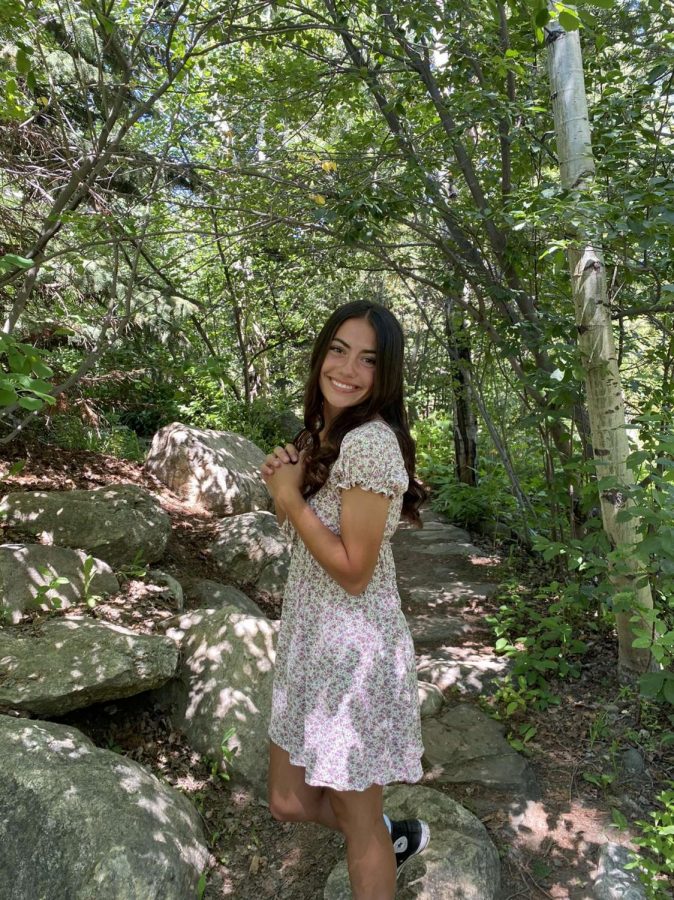 ELLI CLAPP: Clapping Back
Senior Elli Clapp works hard on the field and in the classroom
Elli Clapp is a senior and a multi-sport student-athlete at Frederick High School. Ever since Elli was a young girl she's been into sports, the outdoors, and making multiple positive changes in her community. Elli is accomplishing so many different things every day as a student-athlete she has had an amazing amount of growth throughout her four years of high school—all while maintaining a healthy lifestyle. Elli plays and has played softball, soccer, basketball, and track. She used to play soccer in elementary and middle school, she started playing softball at a very young age and is continuing to succeed in it every day. The rest of the sports she plays either she started in middle or high school. After Elli graduates she would like to go to college and explore the Biology Field. She also would just like to explore her interests and find the right fit for her future.
Outside of being a student-athlete Elli enjoys hiking, surfing, and doing anything outdoors. Elli states "I think it's a great way to let your mind breathe and take a little break from working so hard. In the winter when it gets cold I love to read or find some crafts to do, it keeps my brain healthy without the stress of school or sports." As a student-athlete you have to make a lot of physical and mental changes. For Elli, mentally she wanted to push herself into a good mindset to stay focused, physically she had to stay in shape and eat correctly to stay healthy. Being an athlete helped Elli academically. She says " It helped me find really good time management. I can set  reasonable goals. It has helped me learn out that failing can actually help you, ask questions, learn how to retain good information, and create good habits inside of the classroom."
Elli is related to one of the staff members at FHS and I asked her if it benefits her as a student. Elli says, "I think it's easy knowing you have someone to go to if you don't understand something. Having someone who knows a lot about school has definitely benefited me." Elli likes to go by the quote "You always get to choose your approach." Elli states, "What this means to me is I can choose to approach it as if it's hard and I have to do it or I can choose to approach this as a great opportunity and I should take it." There is a lot of things you can miss about high school. Elli states, "I'll miss the ups and downs because with those comes so many connections with so many amazing people. I'll miss being a part of a team, having friends in the classroom, and being around such an amazing group of people who have shaped me to be the person I am today."
Elli likes to maintain a healthy social life and balance she states "Finding a balance between schoolwork, sports, and time for other things like family and friends. It's really easy to forget about school and focus on sports, but being a good student is the most important thing. Time management and staying on track to accomplish goals is something that can be very difficult but things flow fairly easily when there is an equal balance between working hard in school and sports. While doing sports and school, make sure to take care of yourself. Do school first, then sports, but make sure to enjoy every single part of it and make it fun because it's so exciting to be doing so many things at once."
"I'm most proud of how much I've grown. In sports, in school, and just as a whole. I've learned so much and I have loved every moment of it. I have loved every year, but my favorite was probably my junior year, that's when things started to change for me and I was able to really find joy in what I do," Elli says.
Elli is a kind, intelligent, humble, and hard-working person and she is so easy to talk to. She is very heart-warming towards everyone and she is one of the funniest people you will ever meet. Elli is trying to improve herself and her environment every chance she gets whether it's volunteering, the classroom, or playing her heart out in sports. Elli has a positive future and she is ready to take her next steps towards success.