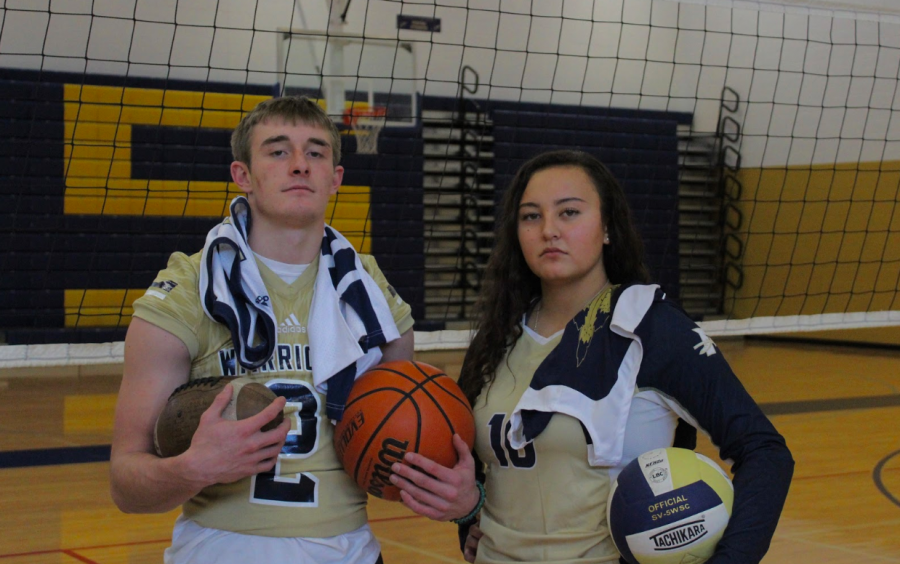 SENIOR SPOTLIGHT: Winning the Game and the Title
Playing the field paid off for these athletic seniors.
Frederick High is filled with students of many talents, but sports is definitely one of their strong suits. Seniors Jake Green and Lelani Purcell are both multi-sport students while juggling their normal school lives. Jake has played football and basketball every year, along with playing baseball in his freshman year. Lelani has played volleyball and track and field all four years of high school. 
Each has known each other since elementary school and they've each been friends for just as long. "I believed Lelani would win because she is very athletic and she deserved this superlative," Jake commented. 
Most students even talked about how this superlative was one of the easiest choices to make. While the senior class is filled with amazing athletes, these two were a few of the most obvious nominees. Even the two weren't very surprised because they actually had people coming up to them and informing people that they had voted for the two. "I wasn't too surprised at the win, mostly because a lot of people were coming up to me and telling me that they voted for me." 
While admittedly the two thank the students on the win, they know it didn't come easy. "I've been playing football for twelve years and basketball for fourteen years," Lelani agreed that they each won because they are known to play multiple sports, "I think we both won because we both play multiple sports," Jake comments that the title took work and dedication, even if their sports are something they love doing. "We both have a 'play to win' mentality and I know we will both do whatever it takes to win." This year especially the two helped carry and support their teams through their sports seasons. 
Even though the two won the title together, they both won for different reasons and explained what positions and roles they play for each sport they participate in. "My positions have changed a lot in volleyball," Lelani explained her most consistently played sport, volleyball. "I've mostly played outside and right side, so I really don't have a favorite position because I enjoy playing them all." Even though she admits that she doesn't drone in on a favorite, she loves each position equally. "I love outside because I feel like I can get up higher when hitting, right side because it's a faster set, and back row because I get to play defense and pass." Jake is well known as the Frederick football team's star quarterback and he had a few words to say about the position. "Playing QB is my favorite because I can control a game in many ways and I can lead by example." He continued to describe his passion for the sport, "Every win or loss is put on by how I play and I enjoy those high-pressure situations." 
The pair have a lot of people to thank for their success, as it doesn't come easy. "I would like to thank everyone who has helped me become the athlete I am today. From my high school coaches, club coaches, to friends, and especially my parents. I wouldn't be where I am today if it weren't for the love and support my family gave me." Lelani praised those who have supported her through it all, while Jake agreed, though with a different support system. "I'd just like to thank all my coaches. Coach Peeples, coach Enoch, and coach Desimone, and everyone involved in my sports journey. It couldn't have been possible without the support of the school and my teammates."