The Breaking Point
March 3, 2022
On February 21, Putin gave an address to his people declaring that Ukraine was under a puppet regime of Neo-Nazis under Ukrainian President Volodymyr Zelenskyy and, as Ukraine was once an important part of ancient Russia, that he would deploy peacekeeping forces to defend the Russian citizens of Ukraine if asked. Here, it's important to note that while Ukraine has at times been part of Russia, it has always had a distinct culture, customs, and language. Zelenskyy is also not a Neo-Nazi, and as the grandson of a Jewish Holocaust survivor, he has pushed Ukraine to be a more open and inclusive society since he took his oath of office in May 2019. As the first Jewish president in a former Soviet bloc country, Zelenskyy had been the target of Russia's centuries-long anti-semitism.
Immediately after this announcement, Ukrainian separatist groups in the regions of Donetsk and Lugansk took total control of the local governments and declared themselves to be independent, sovereign nations that had seceded from Ukraine. Tensions have been building in the region since 2014 after the annexation of Crimea. The separatists have claimed that, since the 2 million inhabitants of Donetsk and the 1.5 million inhabitants of Lugansk speak Russian and share Russian values, they need to be protected from the cruelty of Ukraine and their attempts to assimilate their culture.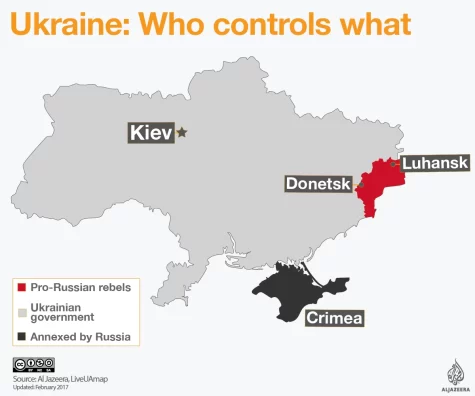 The separatist movement has gained support in the eight years since, as Russia has been sending the separatists money and resources to help them influence the people in the region. The areas even held two disputed elections in 2018 to elect "presidents" of their new republics: Denis Pushilin for the Donetsk People's Republic and Leonid Pasechnik for the Luhansk People's Republic.
The Ukrainian army immediately went into the region to stop Pushilin, Pasechnik, and their separatist supporters. On February 22, Pushilin and Pasechnik requested assistance from Russia, and the next day Putin recognized both areas and sent in his so-called peacekeeping forces to fight–so-called because they began sending rockets and bombs into the Ukrainian capital of Kyiv and other targets nowhere near the separatist regions.
Russia then moved invasion forces into Ukraine along its border and along the Belarusian-Ukraine border. Belarusian leader Alexander Lukashenko is a far-right nationalist and admirer of Putin, so Russia and Belarus have been close allies since Lukashenko's election in 1994. Belarus allowed Russian troops to pass through their country so they could attack Ukraine from the north; for this action, some countries are starting to expand the economic sanctions placed on Russia to Belarus. There has also been a question of if Belarus would join Russia in its invasion of Ukraine: Ukraine claimed that a squadron of 33 Belarusian military units was spotted north of Kyiv, but US intelligence has not confirmed this information.