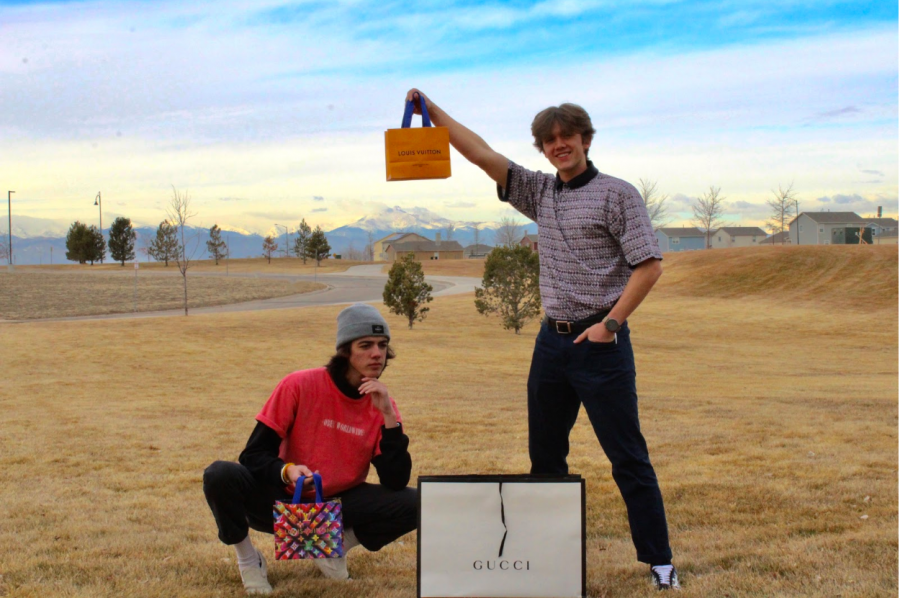 SENIOR SPOTLIGHT: Stunting in Style
Dressing to impress doesn't have to cost the price of a new phone
Recently Gucci and Louis Vuitton have been trending, especially for the students of Frederick High. Seniors Dean McDonough and Hunter Wallace have a different approach to that idea, and it's thrifting. Being voted best dressed in the senior class, these two redefined style by proving you don't have to spend a lot of money to wear a unique style. 
In an anonymous poll, most students said that they thrift shopped at least a few times if not for all of their clothes. 69% said they do thrift shop and 31% percent said they have never thrifted in their life. Most people said no out of embarrassment because thrifting used to be a "gross" thing to do. Senior Jordan Anders even said that she's not opposed to thrifting, it just isn't her style. "I don't really thrift cause most of my wardrobe is clothes and t-shirts from volleyball, concerts, or they are just given to me as gifts. Plus my grandma has Khols Cash." From the group who does thrift, the majority goes to local stores like Goodwill and Arc, and some even thrift so often that they've expanded their selection to smaller stores that are only found in particular places. 
Since these two are known for their fashionable decade looks, we asked the pair where they shop so we could get a little advice. "I find my clothes at places like Goodwill, Arc Thrift, little homie town ones, and Mile High Thrift." Hunter described to us his favorite and most frequently visited shops. Dean added on by saying, "I like to shop at thrift stores instead of a mall because what they sell there is too generic for me and just isn't my style." The two go thrifting together often and even though they dress from the same inspiration, they both have totally different styles. The two emphasized that teens dress relatively the same and they all shop at the same places, so there isn't much variety. In fact, the trend of thrifting is becoming more popular, and we can attribute it to the pair's style. 
Hunter described his favorite outfit for us in detail. "My old man shirt: three buttons on top, collar, nice pattern. Corduroy folded bottoms with white socks and some classic vans. My favorite accessories would have to be watches and a hat, of course as long as it compliments your outfit." Dean's favorite was described as, "Some baggy blue jeans, a plain shirt, and a cool jacket. My favorite accessory would have to be my silver ring." With simple outfits like these, their styles really match their outgoing personalities, which was why it was such an easy decision for the student body to make. 
Senior Ella Berrend mentioned that she thinks the duo won because of their dedication to looking different. "I think it's really cool that thrifting has become really popular lately, and Dean and Hunter are able to show off their awesome style even from used clothing." While the two were shocked by the win, they both agreed that it made sense that they won. "I don't really know why they [the students] voted for me. Probably because I got fits on fits." Dean joking said while laughing. "I think it's cause I don't usually wear the same thing every day, and also I never wear athletic shorts… they SUCK."  Hunter remarked jokingly. 
Something the two wanted to pass onto their classmates and the rest of the student body was some style advice. Since thrifting is becoming a trend, you can take some advice from the winners and up your style. While Dean's style advice was more simple, "I would like to remind everyone that it's okay to prepare for them floods," by cropping or folding your pants, Hunter had some wise words to say. "Just whatever you're comfortable with, and what you think looks good on you, wear it, and it will help you be more comfortable with yourself."