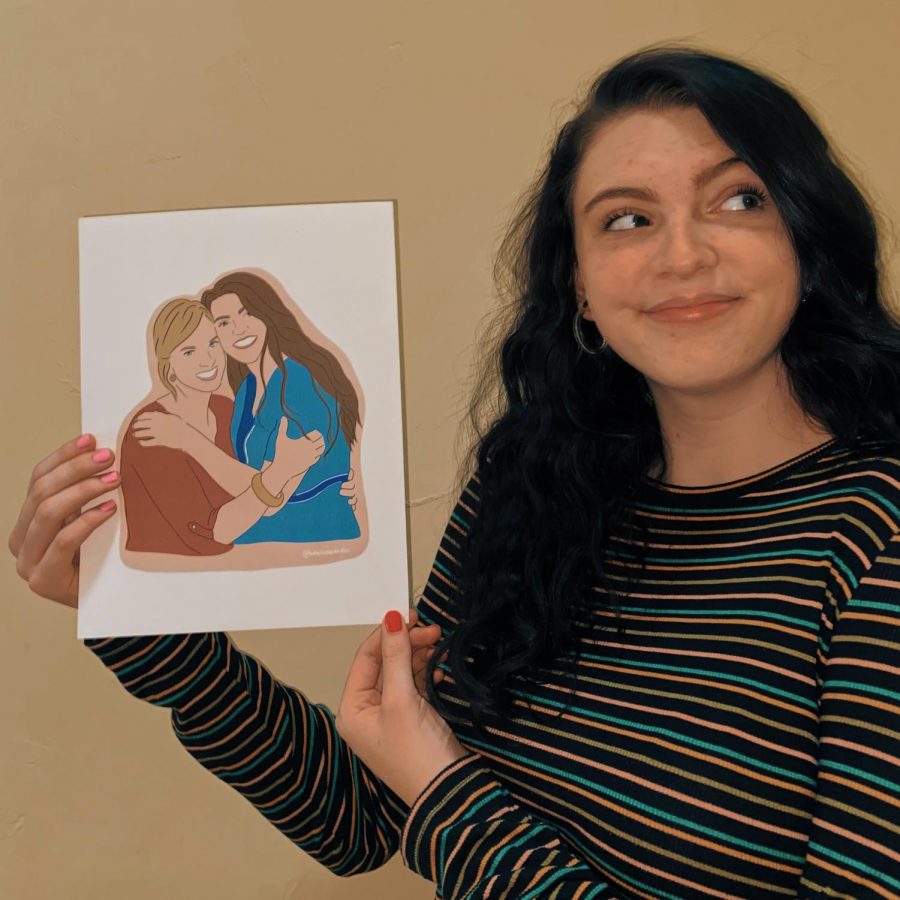 Photo courtesy of Ella Berrend
SENIOR SPOTLIGHT: Sketching Out Success
Ella Berrend uses quarantine to form an art-for-hire business
Most of Frederick's seniors have jobs to help pay for gas, car insurance, clothes, and other things that they commonly need. Some students work as a way to help out their families and a few are even using their current job as a way to get into an industry after high school. Most students dream of being able to rake in money for doing something they enjoy rather than a demanding and low-paying job as a sales clerk or busser. Senior Ella Berrend recently made that change. Trapped in her house due to the stay-at-home order, Ella decided to put her boredom to good use and create a her own business selling her artwork online.
"I had this old Instagram account that I never use anymore, so I thought it would be a good idea to start trying to sell my artwork," Ella said. "I'm going to CU Boulder for college in the fall and I'm already really into the spirit. So I decided to sketch a few symbols from Boulder."
Ella found that when she put the sketches online, they started to be liked by a wide audience beyond her friends. While school was still in the building, Ella considered opening an art business–a few of her friends took an interest in the stickers that she made out of vinyl paper. "A lot of people have Boulder stickers… at first, it was just a cute way to make my own stickers and have them be unique." 
View this post on Instagram
When school began to close, Ella had nothing to do but stay inside. So she turned to her lifelong habit: drawing. "I started doing more sketches as quarantine stretched on, and my friends started giving me their ideas. I finally decided to start posting them." Ella's first post was a stay at home PSA followed by one of her more popular stickers, a Tyler the Creator sticker. "This was one of the first portraits I sketched because he is one of my favorite artists and a lot of my friends like him too." 
From then, Ella's business started to kick off in ways she didn't think possible. "My business was really doing well in the beginning, then exploded. One day I earned almost $200 bucks because people started ordering in bulk. I even got a few customers who ordered a lot more than once." 
Despite not being in school, Ella has been getting an excellent education in running the business. Over just couple of weeks, Ella figured out how to get supplies, how to promote her art, determined an appropriate pricing formula, and managed a realistic shipping to her clients. Ella then started to make a further reach for her audience by making drawings of their loved ones, portraits, cards, and lettering pictures. She was able to create more options for her customers and even started making "posters" about what to do when stuck at home during the quarantine.
If you need a boost of motivation, a creative inspiration, or even just a few stickers to personalize your laptop or water bottle, head on over to Ella's Instagram account @hellaitsellasdoodles! 
Advisor's note: Ella Berrend is a current editor of The Frederick Scout. This article is part of a series spotlighting members of the Class of 2020 and is not sponsored content.