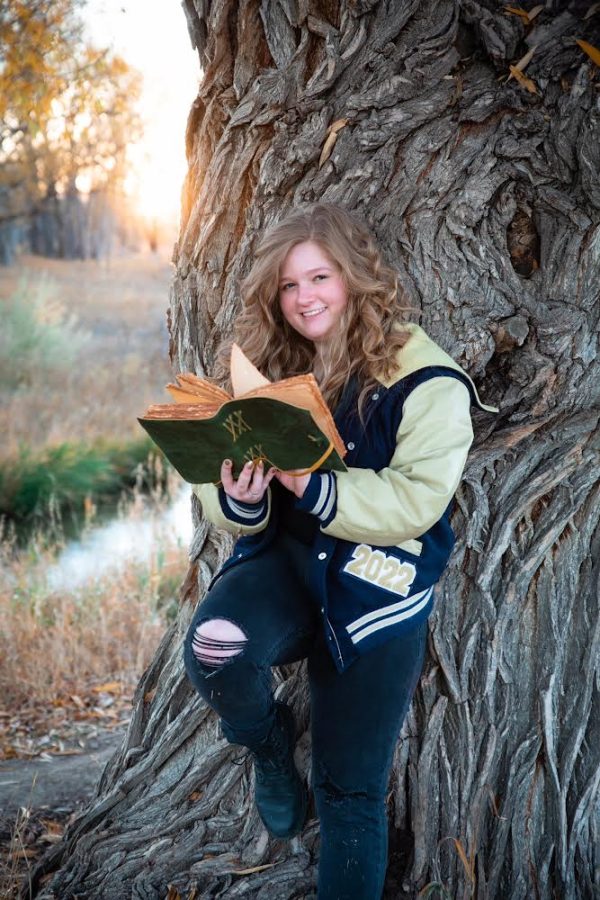 NINA PALMER: Hard Work Pays Off
The 2022 graduating class's valedictorian Nina Palmer has worked every minute and every second that she could get to work to earn the title.
Being at the top of your class is always a huge accomplishment, but for Nina Palmer, it's just something she's always been able to do. Nina was # 2 in her freshman year's first semester and figured she might as well go for first and has now been in first since her second semester of her freshman year. Nina is very hard-working and loves to learn new things. Nina is this year's graduating class valedictorian, but it's not her first time being valedictorian, as she was for her middle school. Working hard and being successful academically is one of the things that Nina has always been able to be good at. She is consistent and always stays on top of her assignments. 
How did you feel when you found out you were valedictorian?
"Not much different. I've held #1 off and on throughout high school, and held it consistently through my junior and senior years, so it was expected. This semester, my GPA was too high to match or overtake with only one semester left to factor in, so we kind of knew. I learned it was official when I was walking through the office one day and Mr. Jackson stopped me and told me, and my response was just something like, "Oh, cool."
Although Nina was expecting to be her class's valedictorian, that still doesn't take the special part away from her. She now knows that all of her hard work has paid off and is being recognized. Nina has pushed her way through to stay consistent for all four years of high school. But Nina says what keeps her most consistent is that "I love learning, and I get bored in regular classes, so I've just packed my schedule full of APs and honors since freshman year." As for consistency, I've just always done my homework, studied, and the like. It's just who I am and how I function. If I get burned out or exhausted, I'll fit the assignment in somewhere else. If I get, or get close to, an overall grade below an A, I'll just pick up the slack on the next exam, or redo tests and assignments. " Nothing comes easily, and certainly earning valedictorian didn't come so easily for Nina herself. But when she kept to her work and was consistent, driven, and always persistent, she got what she most wholeheartedly deserved and saw that it all paid off.
If you are willing to do the work, Nina says some of the best ways to try to become valedictorian or even to just be more academically successful, she said, "Do Your. Homework The trend I see with people who aren't passing classes is that they continually have missing or submit things when the work is no longer relevant. Homework is there to provide practice; just like any sport or hobby, you get better at school subjects through practice. Homework is a way to better comprehend your class and further cement the work in your head. I struggle with submitting homework sometimes, and there is always a notable difference between my final exam in a unit where I did my homework and didn't. The other part is communicating with your teachers. Ask them questions during or after class where you're confused; email questions about the homework; meet with them after school; these things make the difference between an involved and uninvolved student. I ask and answer questions in my classes until teachers refuse to call on me. I answer questions even if there's a good chance I'll be wrong. No one knows 100% about a subject; I've asked questions that teachers haven't been able to answer. Just be involved. You are the only one who has control over your education. "
But even though Nina does her homework and works hard all the time, she makes sure to leave time to have fun and do the things she loves. I like to do various mediums of art; read; sometimes play video games; hang out with friends and family; play dungeons and dragons with a group of friends; and interact with my pets. I have two leopard geckos. One is an albino pastel (meaning she is pink, yellow, and orange) and her name is Milk. The other is a tangerine morph (meaning he is a bright orange with black spot patterns) and his name is Snicket. Our family also owns a Boxer-mix dog named Lolo, a gray and white cat named Blue, a fuzzy lop bunny named Sammy, and a few fish. I like PC and Nintendo games, The Legend of Zelda being one of my favorite series.
Nina is planning on attending Washington State University in Pullman, Washington, where she plans to major in Zoology. "I'm in a couple of their programs, such as their Honors College, Top Scholars program, and Research Scholars program, and I'll hopefully have enough credits to enter as a sophomore." With no doubt, her success will follow her wherever she seems to end up and whatever she chooses to do. 
Nina Palmer is a prime example of how, if you work for it and have the drive, you can accomplish whatever you set your mind to. Hard work is something that Nina has had down to a tee for some time now, but, for time to come, she'll surely keep working as hard. As graduation creeps up on this year's seniors, Nina will continue to write and work on her big moment, her valedictorian speech, as all her hard work has brought her up to that very moment. And at that very moment, it will all be worth it. All the late nights, non-stop working, and juggling of school, work, and just life. It will all just be worth it, and that's more than anything Nina deserves.