Santa's a Girl?
Disney's new film Noelle introduces a new concept…Santa's a Woman!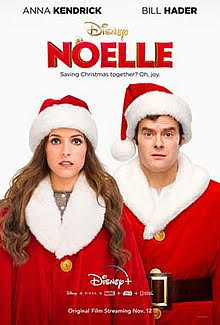 Disney+ is not only thriving off of their well-known princesses and adventurous films but their Christmas comedy film, Noelle, has had many people question the renowned image of Santa. The upbeat storyline is leaving people on the edge of their seat almost the entire movie; eager to find out if character Noelle, played by Anna Kendrick, daughter of Santa, has the special "Twinkle".
Most commonly, Santa is thought of as the big man with a snow-white beard, an entirely red suit, that carries a big red sack of presents on his back. In Disney's original film Noelle, they present the original Santa as the father of two children. Noelle Kringle was a little girl and her father Kris Kringle (Santa Claus) would arrive back to the North Pole every Christmas night to celebrate with his wife and children. Noelle's older brother, Nick, played by Bill Hader, is continuously reminded of his future as the one and only Santa Claus and how his training must begin. Noelle continues to give out her Christmas spirit support, while also making her famous Christmas cards. This being the only job her father assigned to her, she took on the best she could. Kris later passes away but right before Christmas, Nick has yet to master his training skills as the new Santa. Stressed out, Noelle secretly suggests a weekend vacation to relax Nick and he leaves the North Pole. Seven days later, the reindeer return to the North Pole, but without Nick.
When Noelle admits that she sent her brother to get away, all the elves in the North Pole turn on her for ruining Christmas. The council elves feel they have no choice but to go on and assign another Santa, Noelle's cousin Gabriel. Noelle decides enough is enough and searches for Nick in Phoenix, Arizona. After many adventures, Noelle managed to find Nick and bring him safely home. After having several encounters with humans in Arizona, the peers of Noelle started to realize that she was gifted with the "The Christmas Twinkle" that allows her to easily connect with people and figure out their Christmas desires.
This film represents the ups and downs of everyone's Christmas season extraordinarily. Representing the hard times as they should, and the joyful experiences cheerfully. Overall the dialogue kept you on your toes and always interested. The comedy portions could've been stronger, yet they weren't weak which is admirable. The plot was beautifully directed, Noelle is definitely a must-watch!